Tuesday, July 29, 2008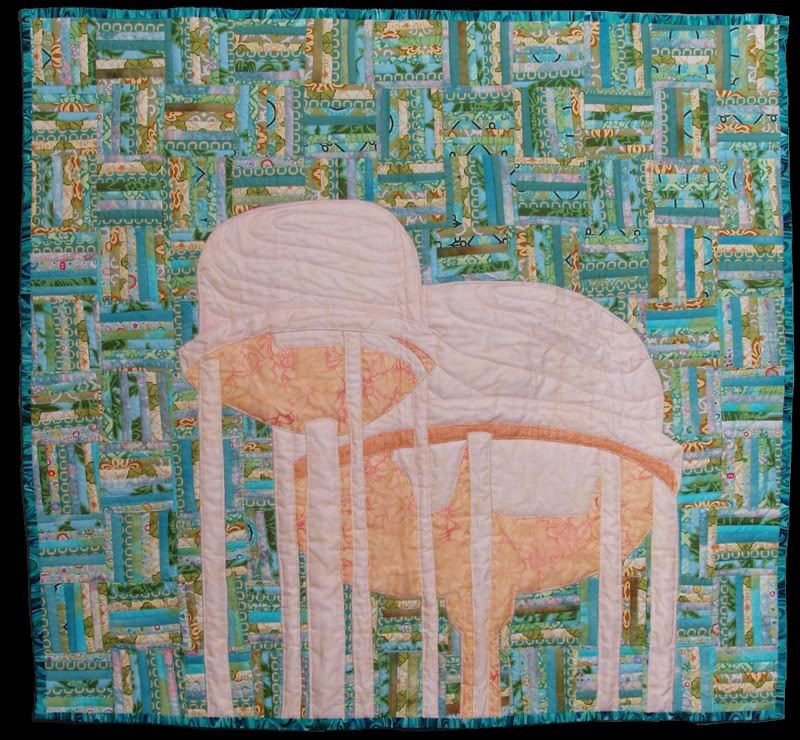 Route 33, Summer Morning
Patchwork, cotton, applique, machine quilting.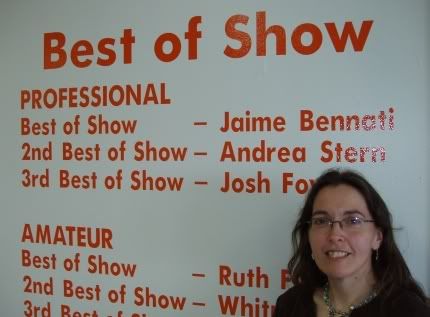 I knew all three pieces got in (the water tower series). I knew I'd won an award. I did *not* know it was this big! I am still in shock. And happy. And grateful. And happy, did I say happy? Yeah, I'm happy.
Thursday, July 10, 2008
In between completing the projects for Lark (shipped today, instructions and photos waiting to be uploaded and emailed) and vending at
Boogie on the Bricks
next week, I feel like a kid on the last day of school. These wonderful Herman Munster green beads arrived on Tuesday with a shipment of Silamide and other wonderful beads that are now wonderful earrings and bracelets and... But I waited, carrying them with me in my purse, taking them out in the car and caressing them in the full sunlight, until the bulk of my other commitments were complete. And so today I bring you this:
I don't know her name yet, only that she has gnarly toes and wears a lavender dress. The head is about 2 1/2" high so far, and I am just having so much fun. Yay for last day of class! I also am taking mental notes so that I can teach this at some point (one thing I also need to do in the next week is work on my class proposals for
Byzantium
and
St. Theresa Textile Trove
).
Tuesday, July 1, 2008
This is by way of saying howdy-do to everyone on the
Plurkette Hencircle
. I was born in Detroit proper, and lived in the suburbs until I was 14. But my grandpa always had a garden, a huge garden, and some of my first memories are sitting on an adirondack chair under their willow tree shucking corn with my Mom-Mom, going out to u-picks and helping pick green beans to can, and driving out to the farm near Pontiac for fresh from the cow milk to bring home (my parents were the hippiest non hippies I think I've ever known).
Then when I was 14 we moved "out to the country" a little house nestled near the village of Holly, with enough land to have a 100' x 100' garden out back. And chickens. And turkeys. Oh, I loved my chickens and turkeys, would talk to them every day. Sometimes out my mom and dad's bedroom window. ("Those guys are really smart. How did they figure out we were in this room?" Unfortunately I never got that younger sibling to blame things on.....) Weeding the garden and helping to can, not so much, but the products were o so good.
The one thing I excelled at was baking and cooking. Give me a recipe and I could make it (still can, and now I don't always need a recipe even). So that is what I contributed to our little family.
Many years and several moves later, I am deep in the southeast corner of Ohio, near the home of Ohio University. Lots of hippies, a really cool farmer's market, and many opportunities to re-envision that lifestyle. I contribute to the family income by baking for a local coffee shop (
Donkey Coffee and Espresso
) , designing projects for Lark Books (my latest for "The Artful Storybook" should be hitting shelves soon, I received my contributor's copy), writing the occasional article, and of course selling my art quilts, beadwork and knitwear. And I am very excited for the opportunity to expand my community through the Hencircle.