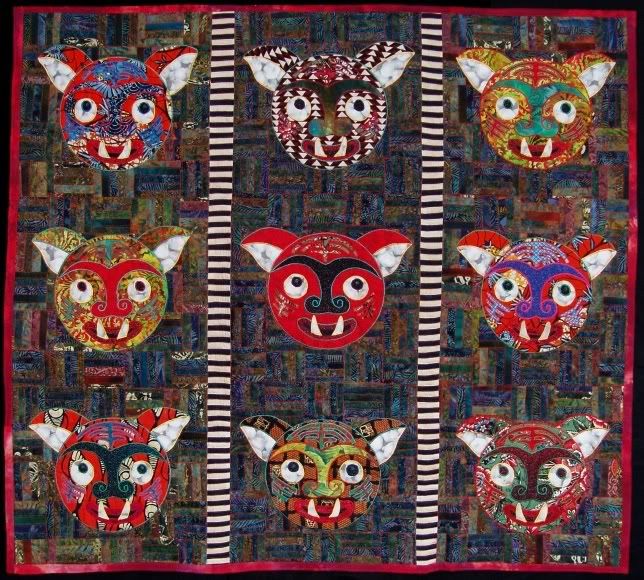 While working between larger more serious works, and while avoiding the larger work from anxiety, fear of not getting it right, etc, I sometimes manage to make something else. This piece is based on a tiger face I designed intending to create a handbag, but which morphed into a quilt square instead. The background is pieced of the various batiks I had sitting in the stash, while each tiger face takes advantage of the lovely array of Dutch wax batiks I have collected over the years from Becky at
St Theresa's Textile Trove
On the back, which I have no photo of, I used some yardage of Detroit Tiger licensed fabric that I had bought at WalMart. I remember going to see the Tigers play once with my mom, Grandaddy and Uncle Sam. I don't remember if they won, but I do remember the ice cream I was able to get (we were constantly on diets when I was little). I'm sure the nearsighted thing also played into the not remembering the game. I do remember the game I went to in 1984 with my friends Beth and Wes, the crowds chanting "Louuuuuuuu" which sounded so much like "boooo". That year was great, though I made a faux pas when talking to Marty one day, not realizing that the Tigers and Orioles were battling it out that year "How about them Tigers"? Fortunately despite that and the fact that I woke him one morning with lovingly prepared peanut butter cookies, he still stuck around and we are together to this day.
Well, I digress. The stripes that divide the rows of tigers reminds me of the stitching on a baseball, and they were inspired by a stripe along the selvedge of one of the batiks (I also need to add that at the south side of Detroit off of I-75, there used to be a oil tank that was round and had the Tigers logo painted on it, for some reason I also thought of that while working on this piece). I quilted the piece with blazing neon orange Madeira thread, adding even more fun to it. It may not be a "serious" piece, but I sure had fun and it makes me smile when I look at it.
I think we all need something like that in our lives, something that is just for us. What do you have in your life that you do "just for you"?