Rabbits have been an influence for quite some time. When I was a child, my mother painstakingly embroidered this lovely growth chart for me, using a stamped kit from Lee Wards.
(Evil Bunny, detail)
While I admired the work and the colors and that it had my very own name on it, the eyes on this rabbit always gave me the heeby jeebies. They just seemed wrong to me and I was very happy when I finally outgrew the growth chart and it went into my mom's drawer of memories.
I forgot about it for a long time, and then late last year I began doing some sketches with a Bic pen in a Canson sketchbook:
Carnival bunny with cathedral window headdress.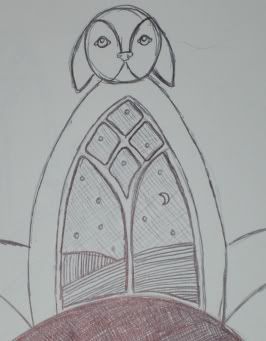 Always being a fan of picture in picture stuff, I gave the rabbit a "rabbit on rabbit " look.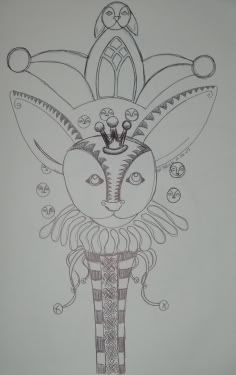 The next piece in the progression, a jester stick design.
And combining a rabbit and a bat in a pastoral setting ( I always loved the illuminated manuscripts' images I'd find in our Time-Life collection of history) with a bit more whimsy.
Detail of the memento mori collar and the crown, this rabbit has a secret.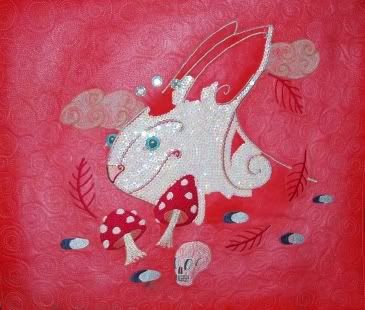 And finally back to fabric, where I drew the rabbit onto a piece of canvas, painted it with Setacolour paints, and then embellished with machine embroidery, beads and sequins. Still in process.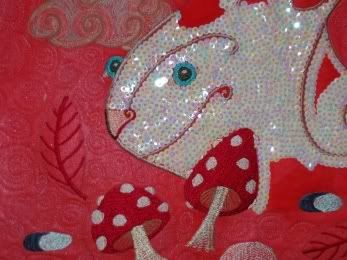 Closeup, Evil Rabbit grows up.
It's funny how I forget about that rabbit wallhanging until I am cleaning in the studio and come across it, but obviously it has never been too far from my thoughts.