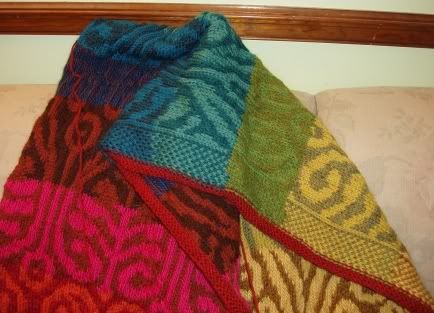 I have been working on the "Liberty" afghan from the new Mason Dixon Knitting book (
Mason Dixon Knitting Outside the Lines
) in my copious spare time. Since I didn't have the $ to buy the yarn for the whole piece, I started using stash yarn, changing it up as either I got bored, or ran out of one of the colors. Above is a detail of the steek and one side of the long binding (I chose to knit the binding on before cutting the steek as I am a steek virgin).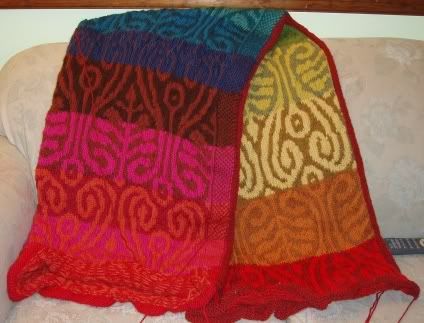 Here is the whole piece folded over on the sofa so that I could fit it all into one photograph. I like how my tension changed as I worked the piece. I started on the left with primarily Lamb's Pride and Cascade 220, working my way through stash of that, Mountain Colors, and finally new Ella Rae, Cascade 220 Superwash and even a bit of the Berocco Ultra Alpaca the original pattern called for. It's a bit longer than the 69" the pattern in the book called for, but I used what I had on hand (40" size 7 circs, amazingly my tension is so loose now I have to go down a needle size or more when working a pattern). I figure it doesn't matter that much since it is a blanket. It has also been nice to work on these colder fall evenings. I currently have two rows left to go on the other long binding, then it is time to cut the steek.
I love both of the
Mason Dixon
knitting books, they opened my skill set up so much. I am really happy that I am comfortable to knit with colors in two hands now and have several hats planned now for the Canton show.