It is time to change cookie cutters, at least for a little bit. These are some of the cookies I took over to Donkey last night, trees with frosting and non-pareil decors. Someone brought Grandpa cookies like this when we were visiting him one year at Christmas, every time I see these I think of him. :) I am not sure if I will do cookies all month or not, they bake a little different than the hearts, pumpkins, birds and butterflies. All the small tips seem to bake faster and are a little more brown than the inside of the tree. Even at that, they only had 4 left this morning when Aisha was in checking on baking inventory for me.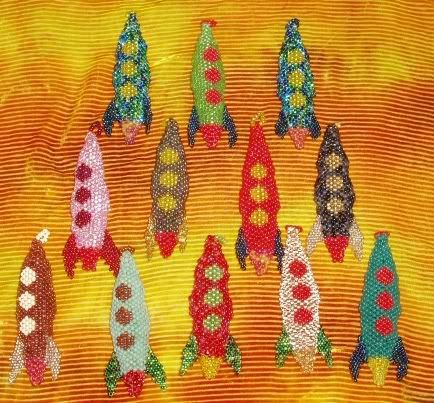 I also have been making rockets for the upcoming craft show November 29 at the Logan Hocking Community Center. I am working from beady stash here, size 6/0, and don't have a lot of traditional "holiday" colors. But I am really happy with how they are turning out even with the more unusual colors. And if you are like me, some ornaments stay up year round, so "seasonal" color isn't as much of an issue. I could see these strung across a doorway with jumbo planets hanging in between them. We'll see what happens.
What holiday preparations are you making?