I am working on Marilyn, with a goal of entering the piece into the Ohio Designer Craftsmen Best of 2008 show.
Here is a picture of quilting in progress.
And a view from the back, seen a lot while tying off knots. Good advice from
Susan Shie
, use fun fabric on the back, too, since you'll be seeing it a lot while you're tying knots, etc. I got the floral print from
Honey Fork Fabrics
, it was one of their bargain bolts. And the purple is from my MIL, Sandy.
And now, dessert. Sequinizing with the lovely new sequins from
C Cartwright
(they are the iris finish, I just love me some iridescent goodness).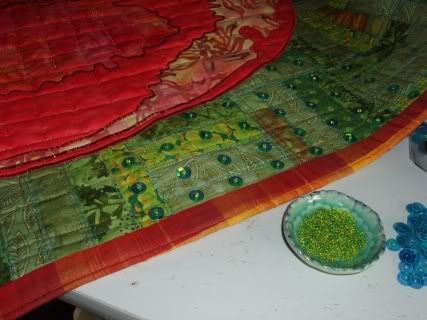 And a wider view of the piece, I love my little ceramic dish and collect different kinds that are great for this kind of work. Once I get the top third sequinized, I will make the sleeve and sew it on, as I always leave that for last and never really like doing it. I figure getting to put on the rest of the sequins will be a good bribe (that, and having the piece done when it's done! Wow! :)